Forever Found in The Bahamas
This is the beginning of the next chapter in your unforgettable story and we're here to ensure it unfolds the way you've always imagined. No cookie-cutter packaging—just a picture-perfect location to celebrate the moments that have, at last, brought you here. It's everything you need, all in one destination. Leave the details to us, as you step into forever.
Unforgettable Moments at

Sandyport Beach Resort:
At Sandyport Beach Resort, we understand the importance of creating unforgettable moments on your special day. Our picture-perfect location provides the ideal backdrop to celebrate the milestones that have brought you here, surrounded by the breathtaking beauty of the Bahamas.
Experienced Wedding Coordinators

Wedding Coordinators
Your dedicated wedding coordinator will bring your vision to life, ensuring a flawless and unique wedding day that truly represents your love story. We work with the island's best wedding vendors, from talented photographers to skilled florists and decorators, creating a personalized experience that reflects your style.
Choose your

Backdrop
At Sandyport Beach Resort, we understand that the perfect backdrop sets the stage for your ceremony. Whether you envision saying your vows on the white sands of our private beach, under the swaying palm trees, or at our stunning Ocean Gazebo overlooking the crystal-clear waters, we have a variety of breathtaking options for you to choose from. Let the beauty of the Bahamas be the canvas for your love story.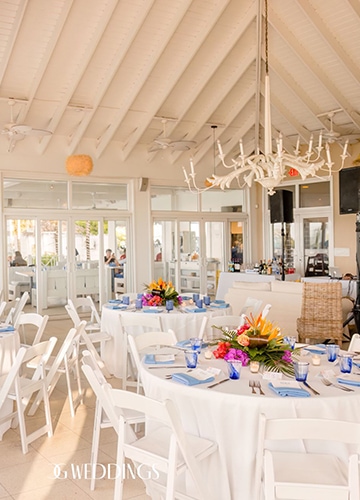 Delightful Dining Experiences

Dining
Indulge in a private feast that delights the senses and satisfies every palate as you soak in the views at Blue Sail Restaurant, enjoy casual Bahamian BBQ by the pool, or savor an intimate experience at the Ocean Gazebo. Our talented culinary team will craft a menu tailored to your preferences using only the finest and freshest ingredients.
Group Rates &

Accommodations
Our special group rates ensure everyone can share in the joy of your special day. From cozy rooms to spacious villas, each guest is bound to find the perfect escape in paradise.
Personalized Arrival Amenities

Arrival Amenities
Make the arrival unforgettable with personalized amenities for you and your guests. Whether it's a bottle of champagne, tropical fruits, or custom-made gift baskets, we'll ensure that your first moments at Sandyport Beach Resort are filled with warmth and hospitality.
Romantic Honeymoon Retreats

Honeymoon
Extend the magic of your wedding celebration and indulge in a romantic honeymoon in the Bahamas. Our resort offers a perfect blend of relaxation, natural beauty, and island amenities, making it an ideal destination for couples seeking an unforgettable honeymoon experience. Unwind in our spacious One Bedroom Suites on the Lagoon Beach or the Grand Canal, pamper yourselves with couples massages, enjoy thrilling water activities, and explore the beauty of the Bahamas together.
We can't wait to embark on this incredible journey with you. Contact our dedicated wedding team today to begin planning your unforgettable beach wedding at Sandyport Beach Resort. Together, we'll create a celebration that captures the essence of your love and leaves a lasting impression on both you and your guests.
Your dream wedding awaits at Sandyport Beach Resort, where cherished memories are made, and love stories come alive.