A Taste of The Bahamas |
at Our Nassau Restaurants
Fresh conch salad with a cold Kalik, grilled mahi-mahi, guava duff and Bahamian fish stew. At Sandyport Marina Village's five restaurants and bars, guests enjoy fresh island ingredients, kicked up with the flavors from France to the Mediterranean. And when the kids start craving something familiar, rest easy: your suite is equipped with a full kitchen and your kids' favorite fast food joints are within walking distance of the resort.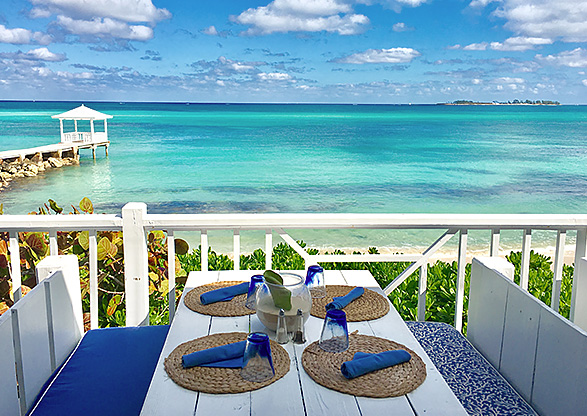 Blue Sail
Restaurant and Bar
Celebrated chef Jacques Carlino is the star behind Sandyport's chic and casual Blue Sail Restaurant and Bar, serving Mediterranean-French fusion cuisine overlooking The Resort's white sand beach and crystal-clear turquoise waters. Menu favorites include Yellow Fin Tuna Ceviche, Bahamian Conch Chowder, and savory pizzas from the chef's wood-burning oven.
Hours of Operation
Monday - Thursday 11:00am to 10:00pm
Friday & Saturday 11:00am to 11:00pm
Sunday 11:00am to 10:00pm
Call Us at (242) 327-7111
Reserve Learn More View Our Blog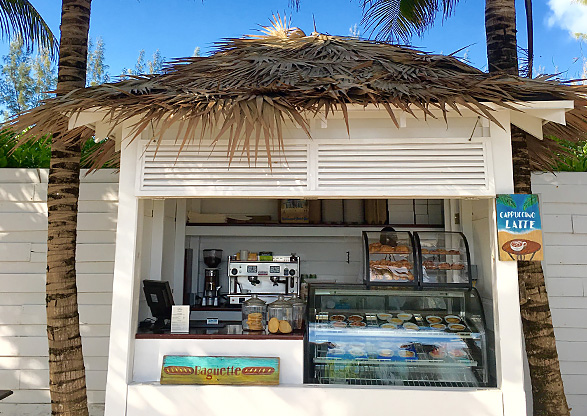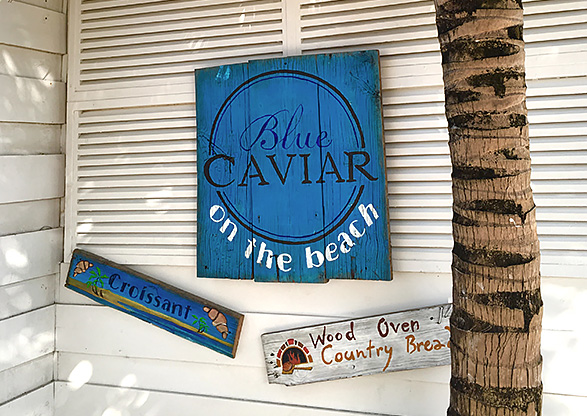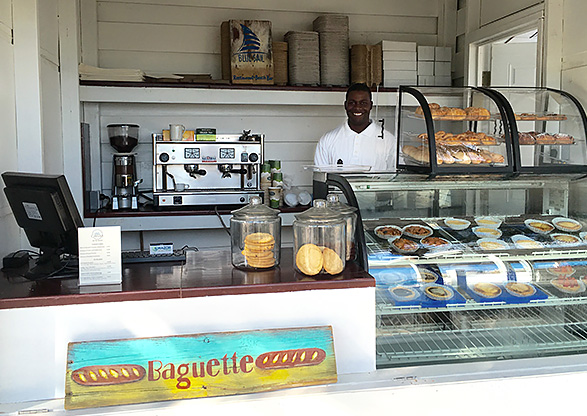 Blue Caviar
on the Beach
Blending French bistro cuisine on our own ocean beach, Blue Caviar is our guests' go-to for hot and cold breakfast favorites and classic lunchtime fare reminiscent of a Paris sidewalk cafe. Celebrated chef, Jacques Carlino is the star power of the cuisine where Sandyport guests enjoy easy signing privileges.
Hours of Operation
Continental Breakfast 8:00am to 12:00pm
Hot Breakfast 8:00am to 10:00am
Call Us at (242) 327-7111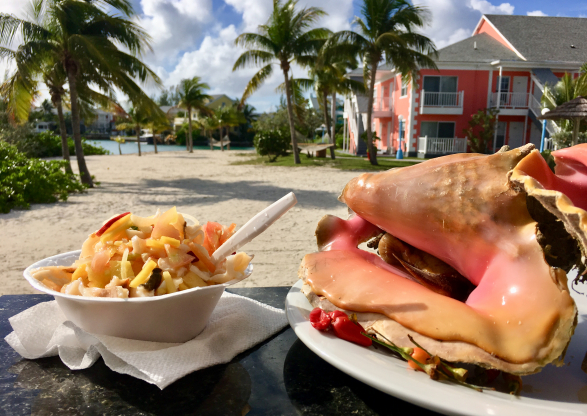 Da Conch Shack
on the Beach
For a Tru Tru Island Life Experience stroll over to Da Conch Shack, an open-air in the sand, lagoon beach, and poolside experience, where conch is harvested right in front of you and made into the local favorite, Conch Salad. Plan to relax with a local beer or tropical drink in hand and learn about the Bahamas most famous seafood ingredient while watching your fresh conch salad made to order, as spicy as you want, with fresh ingredients from start to finish. This is "It's Better in The Bahamas" in its pure form.
Hours of Operation
Wednesday through Sunday
Noon to 5 PM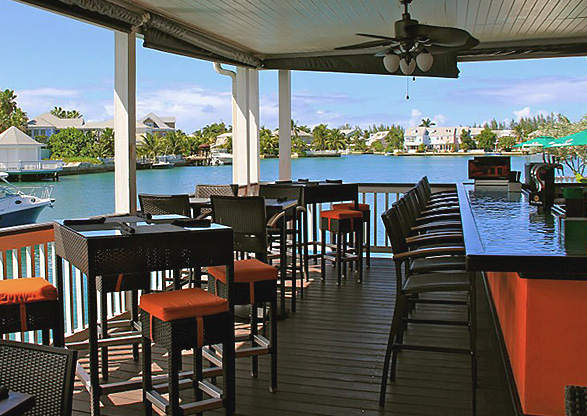 Twisted Lime
Sports Bar and Grill
Located on the water in the Sandyport Marina Village, the family-friendly Twisted Lime Sports Bar and Grill pairs big game action on 18 jumbo flat-screen TVs with great service and high quality food and drinks. This full-service restaurant boasts menu items such as fire-grilled certified Angus steaks, house-made pizzas, and 21 different ice-cold beers.
Hours of Operation
11:00am to 1:00am
Call Us at (242) 327-0061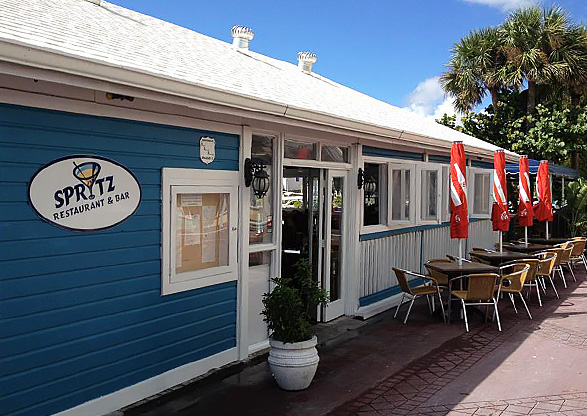 Spritz
Restaurant and Bar
Dine out over the water at this casual spot within the Sandyport Marina Village. A local favorite for lighter Italian fare, Spritz Restaurant & Bar welcomes walk-ins but we recommend booking ahead!
Hours of Operation
Monday 5pm to 10pm
Tuesday - Sunday 12pm to 10pm
Call Us at (242) 327-0762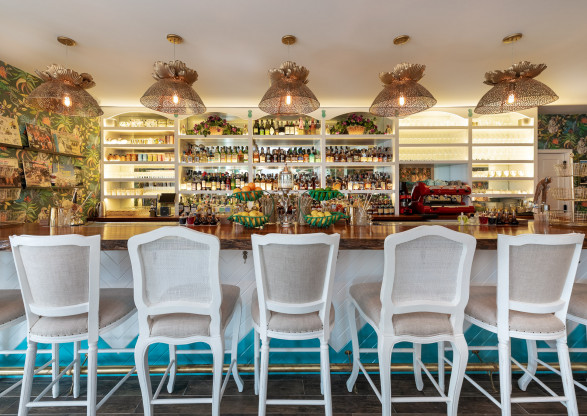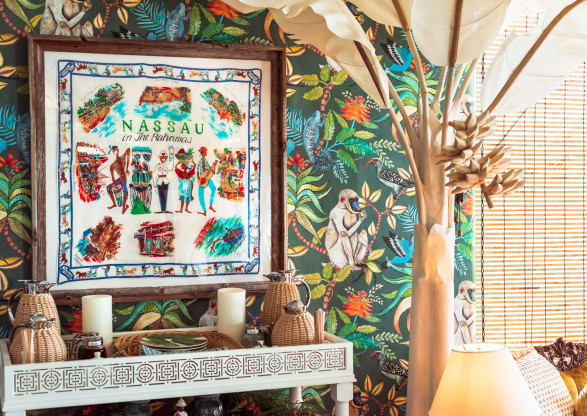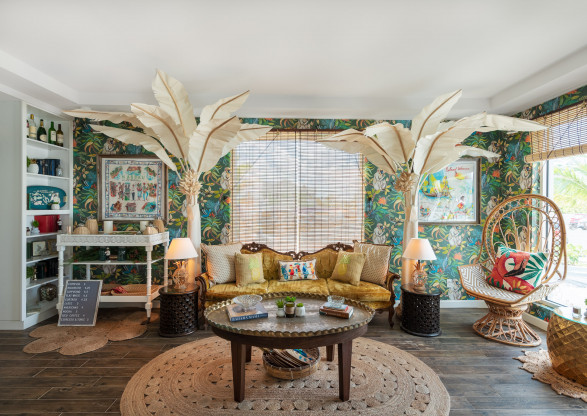 Bon Vivants
Cafe & Cocktail Bar
Bon Vivants is the first true cocktail bar in The Bahamas dedicated solely to the art and history of the craft cocktail. During the day time, they double as a classic café serving authentic espresso-based beverages, fresh teas, and daytime cocktails. Inspired by the lush history of our beautiful Bahamaland as well as the infamous life and writings of Ernest Hemingway they strive to give you the very best quality in every single drop. Every detail has been explored! Located in the Sandyport Marina Village at the Resort's main entrance.
Hours of Operation
Monday - Friday: 7am to 4pm
Saturday: 9am to 4pm
Sunday: Closed
Call Us at (242) 601-9463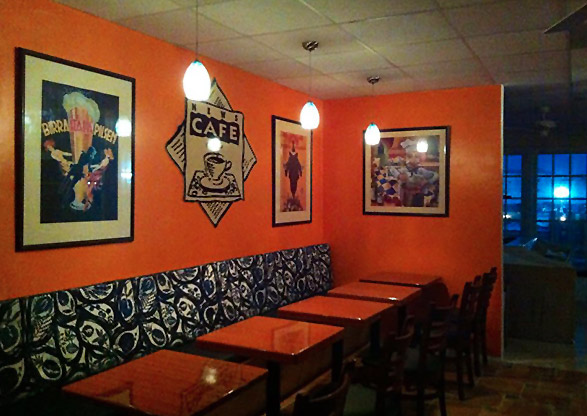 The News
Café
The News Café is a popular Sandyport Marina Village spot for breakfast and lunch. Highlights include fresh-made sandwiches, a full delicatessen-style menu and ice cream treats.

Hours of Operation
Monday - Saturday 7:00am to 7:00pm
Sunday 9:00am to 9:00pm
Call us at (242) 601-2038.
Poop Deck
at Sandyport
Serving some of the best Bahamian cuisine, the Poop Deck at Sandyport is located on the west Ocean Beach and specializes in fresh and local seafood and island flavors.
Hours of Operation
Tuesday - Sunday 11:30am to 10:30pm
Call Us at (242) 327-3325